Trottinghamshire Bronies Meetup [6th Nov 2021] @ Nottingham Train Station/Johnson Arms
November 6, 2021 @ 12:00 pm

-

6:00 pm

GMT

Free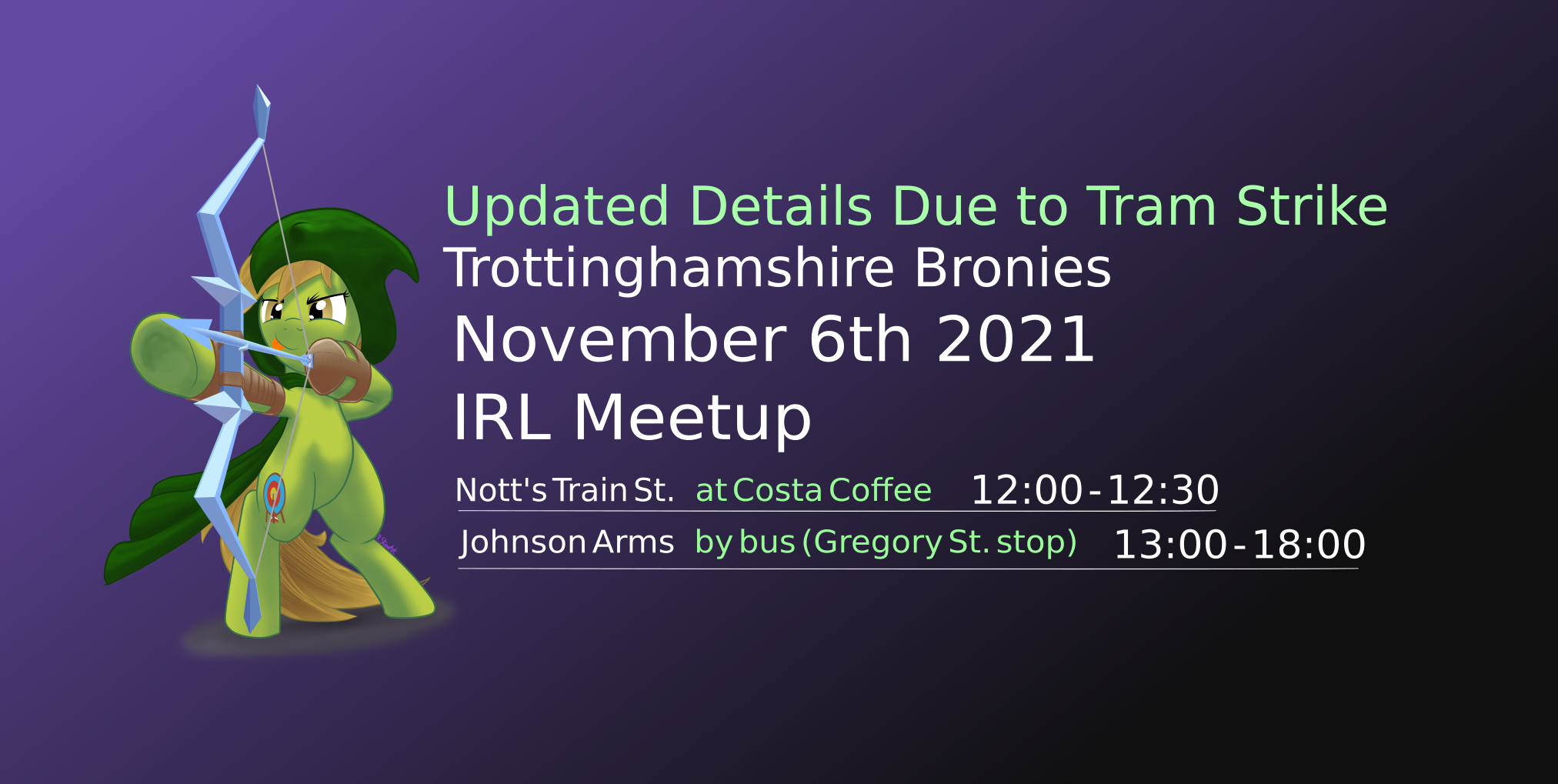 While date for the November Trottinghamshire Meetup has been chosen for a while, I can now confirm that we will be meeting up at The Johnson Arms on the 6th of November. To see the details behind why this date was picked see the blog post on October and November 2021 Voting Results.
I think it goes without saying, but we do not have any problems with people wearing masks if it makes them feel safer attending the meetup. Especially considering the last couple of years we have had.
Meetup agenda & Venues
EDIT: Sorry for the ping, but there is an important change announcement to the Trottinghamshire Bronies meetup tomorrow due to the tram disruption. We are now planning to meet at the Nottingham Train Station at 12:00 Noon, then board the SkyLink bus from the Greyfriars stop at around 12:30.
We should hopefully arrive at the Gregory Street stop (right nearby The Johnson Arms) at about 1 PM. Please note that this is a little earlier than originally communicated, due to the differing bus times.
Of course, if you're arriving via car or alternate transport, we hope to see you at the pub around 1! If you have any queries or concerns about the change,  leave a message in the comments, on our Discord server, or on our Telegram group.
The meetup will
start
at the
Costa Coffee
in the entrance hall of
Nottingham Train Station
at
12:30 PM
. Then at
12:45
we will head over to
The Johnson Arms
via the
Toton Lane tram
(Getting off at
Gregory Street
) hopefully getting to the pub for
1 PM
.
The Johnson Arms has adequate table space for the people who enjoy playing card games during these meets, such as TSSSF and MLP CCG. We may also be running a game of Tails of Equestria, a Pen and Paper RPG, at the meetup if we have the time.
If playing tabletop games is not your thing, there will be plenty of people with who you can just hang out and socialise. If the group wants to, and weather permitting, there's also the option to have the meetup in the large beer garden out the back.
Meetups Locations
The Johnson Arms
Costa Coffee @ Nottinghamshire Train Station
Costa Coffee @ Nottinghamshire Train Station
Useful Links
Costa Coffee at Nottingham Train Station on Google Maps
The Johnson Arms on Google Maps
Tickets are not available as this event has passed.