Trottinghamshire January Meetup (22/01/2023) @ The Playwright Nº 38 ➤ The Dice Cup
January 22 @ 12:00 pm

-

6:00 pm

GMT

Free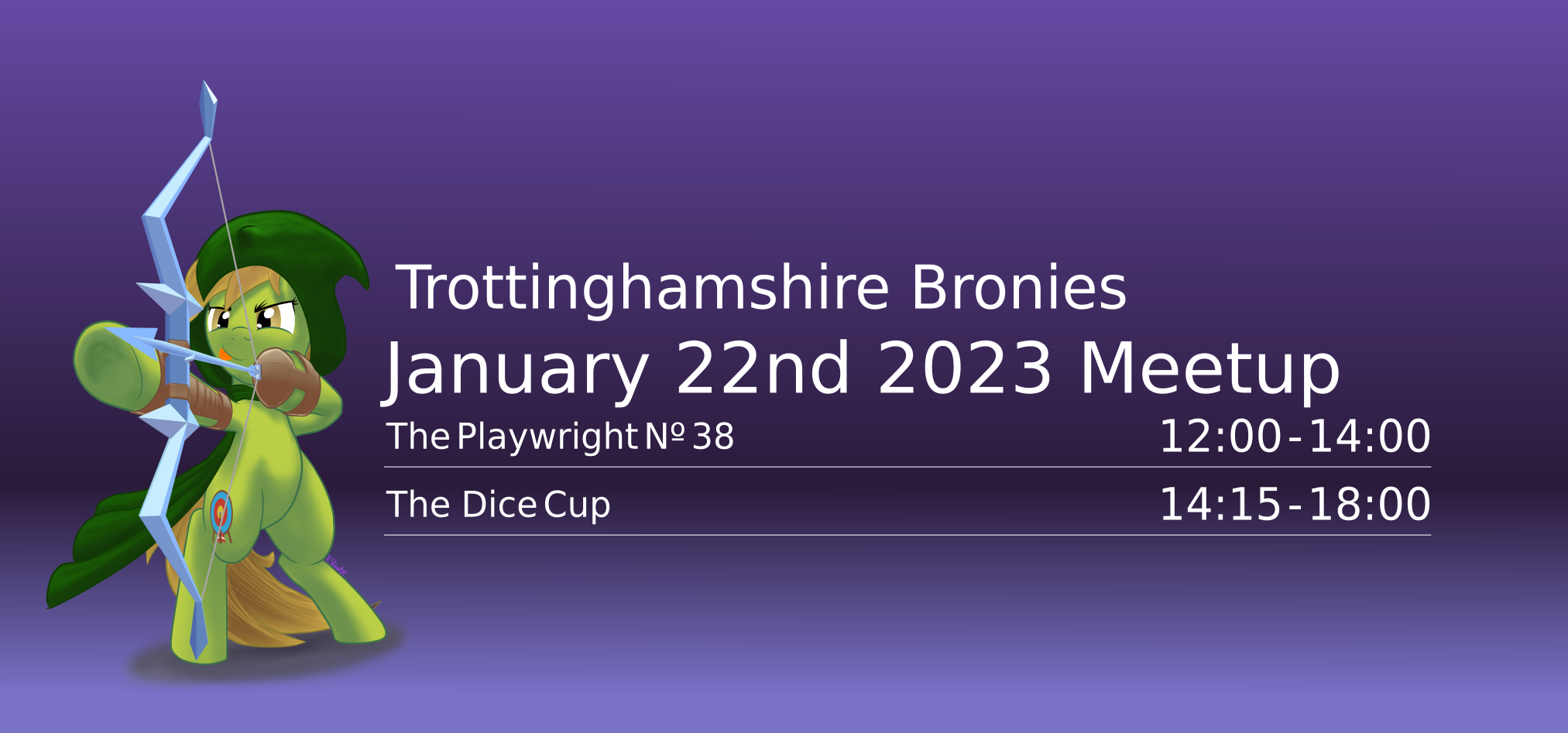 The voting for the next Trottinghamshire Meetup is now closed. We have a booking at The Playwright Nº 38 and The Dice Cup for the 22nd of January. However, the plan for this meetup is slightly different from our typical meetup (See Below). To see the details behind why this date was the groups choice, see the blog post on the results of the January and February meetup poll. 
Meetup agenda & Venues
The plan for the January Meetup is to meet at The Playwright Nº 38 at midday. Due to refurbishment, I could only book a table between 12:00 and 14:00. However, this should be enough time to have food (a Sunday dinner is one of the options) and drinks. Afterward, we head to The Dice Cup at 14:00, where I also have booked a table from 14:15 to at least 18:00.  
The Dice Cup has adequate table space for people to play card and board games. Some of the games we have played in the past are:
TSSSF

 (Twilight Sparkles' Secret Shipfic Folder)

Tails of Equestria

 (a Pen and Paper RPG)

MLP CCG

 at the meetup.

Uno

 (Including the Wild Card Version)
If playing tabletop games is not your thing, there will be plenty of people at the meetup with who you can hang out and socialise. There is an entry fee of 1£ to play your own card games and board games.
Directions To The Dice Cup From The Playwright Nº 38 [Bigger Map]
Useful Links
Trottinghamshire Bronies Discord Server
Trottinghamshire Bronies Telegram Group
Tickets are not available as this event has passed.