The dates for the November and Christmas meetups have been chosen, and the voting is now closed. We picked these dates because they are the most popular days and give people the most notice.
The November meetup will be on Sunday, the 26th of November. Unfortunately, the Playwright was not available for booking on the most preferred date of Sunday 10th of December, so the December meetup will be on Sunday, the 17th of December as that was the groups second choice.
I will post the details of these meetups in the event section of our website later.
November Result
| | | | | |
| --- | --- | --- | --- | --- |
| | Discord | Telegram | Facebook | Total |
| Saturday 4th of November | 2 | 1 | 1 | 4 |
| Sunday 5th of November | 2 | 2 | 0 | 4 |
| Saturday 18th of November | 3 | 1 | 0 | 4 |
| Sunday 19th of November | 3 | 2 | 0 | 5 |
| Saturday 25th of November | 4 | 1 | 0 | 5 |
| Sunday 26th of November | 3 | 2 | 1 | 6 |
December Result
| | | | | |
| --- | --- | --- | --- | --- |
| | Discord | Telegram | Facebook | total |
| Sunday 3rd of December | 2 | 1 | 0 | 3 |
| Saturday 9th of December | 2 | 1 | 0 | 3 |
| Sunday 10th of December | 3 | 2 | 1 | 6 |
| Saturday 16th of December | 2 | 1 | 1 | 4 |
| Sunday 17th of December | 3 | 2 | 0 | 5 |
Raw Results
discord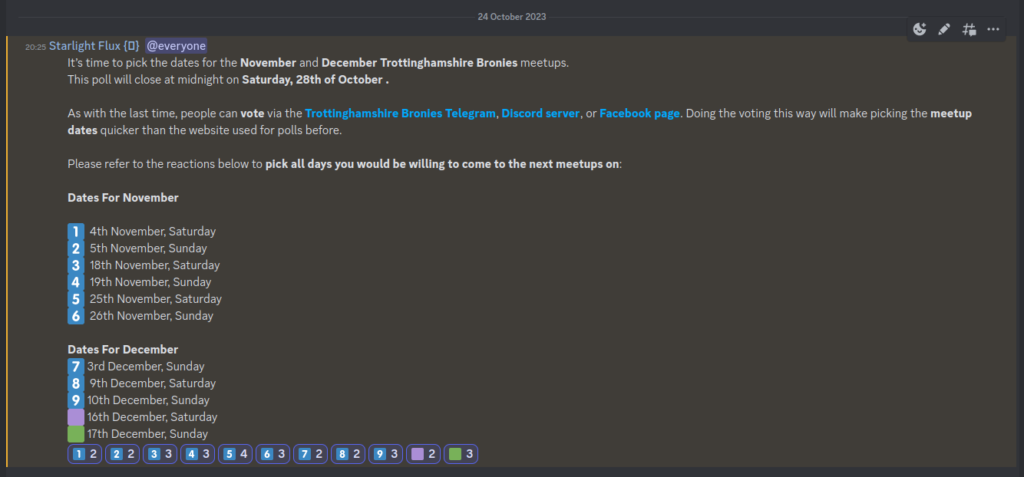 Telegram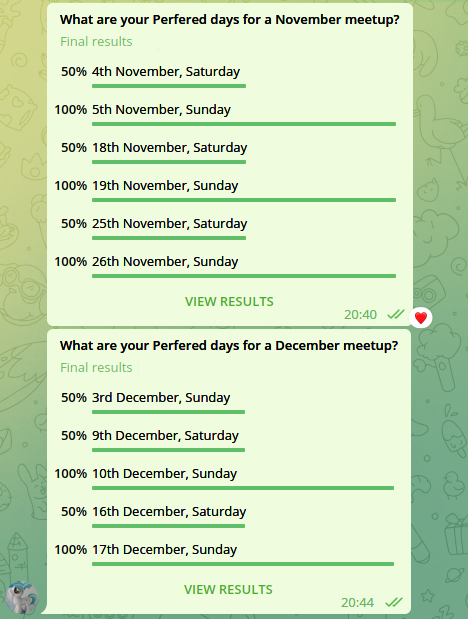 Facebook